Regular price
Sale price
$35.00
Unit price
per
Coming Soon
Khayali is an exquisite perfume from the house of Al Fares that captures the essence of Arabian luxury in a uniquely designed Eau de Parfum, created for today's discerning man and woman. Encased in an opulent Arabian-style bottle, this fragrance is a true masterpiece, exuding allure and sophistication at every turn.

From the moment Khayali graces your skin, a magical transformation unfolds. The fragrance dances gracefully through a symphony of notes, captivating your senses with each breath, revealing ever deeper and richer nuances that blend effortlessly. The masculine and feminine elements are harmoniously intertwined, creating a captivating aura of charm.

The heart and soul of Al Fares lies in its intricate complexity. Crafted with meticulous attention to detail, this perfume exhibits a rich, multidimensional scent that captivates and intrigues. Immerse yourself in a blend of aromatic vanilla, agarwood, sweet sugar, aromatic incense, warm sandalwood and sensual musk. This harmonious composition envelops you in a tapestry of aromas, leaving an indelible mark on your memory.

But Al Fares offers more than a captivating fragrance. It represents the epitome of luxury, a testament to the highest quality standards. Khayali leaves a lasting impression, ensuring that your presence lingers in the air long after you're gone. The duration of this perfume accompanies you throughout the day, infusing each moment with an aura of elegance and refinement.

For those who appreciate the finer things in life, Al Fares amazes with its exquisite craftsmanship, combined with its enchanting aroma, making it the perfect choice for those looking for an exceptional perfume. Whether you're treating yourself or looking for an extraordinary gift for someone special, Al Fares Perfumes is sure to exceed all expectations.

Embark on a sensory journey and delight in the charm of Khayali. Immerse yourself in the heady beauty of this extraordinary fragrance and let her rich tapestry of scents transport you to a realm of opulence and allure. Experience the captivating symphony of scents that defines Khayali and let it become an essential part of your signature style.

FRAGRANCE NOTES
Top Notes: Vanilla, Agarwood
Heart Notes: Sugar, Incense
Base Notes: Sandalwood, Musk
Share
View full details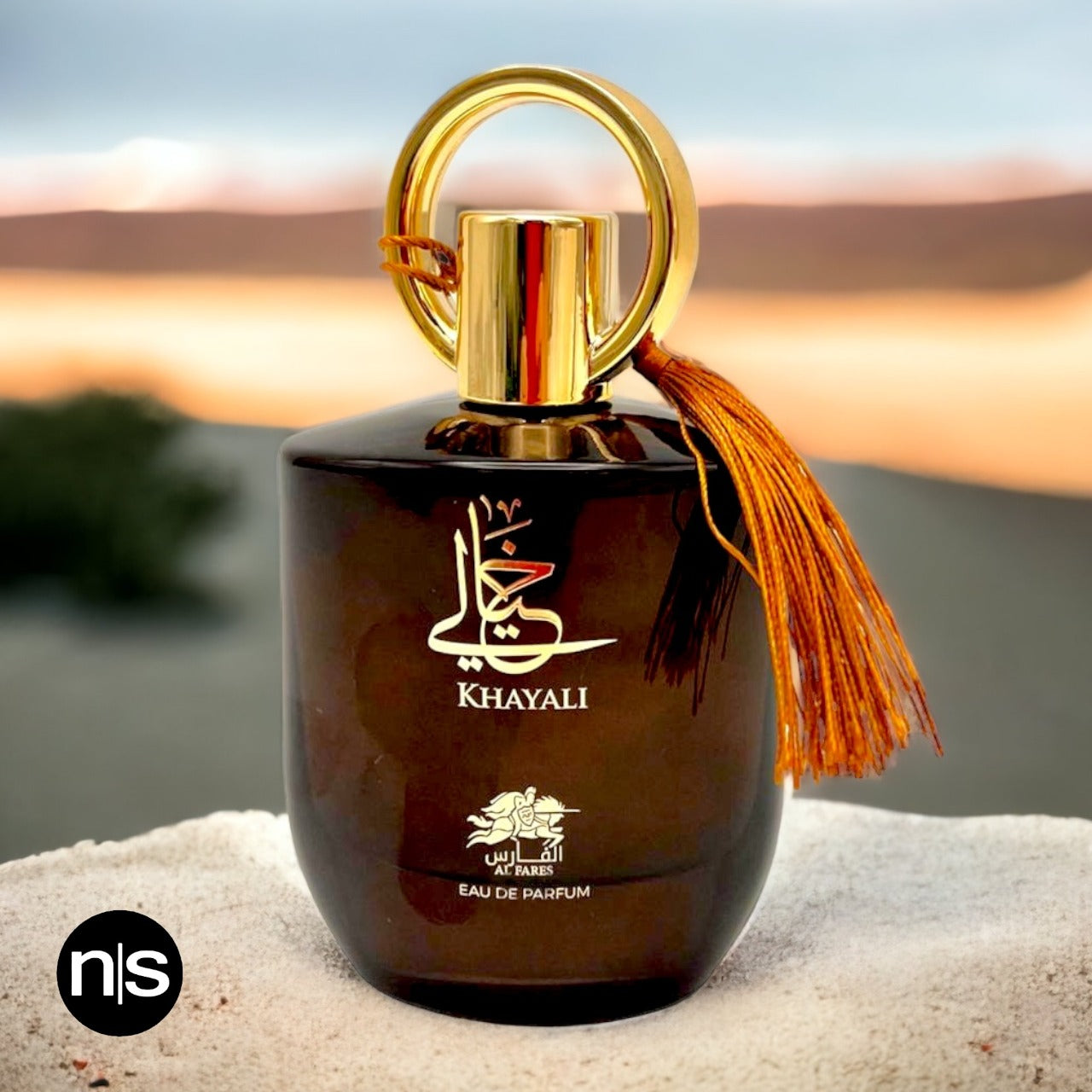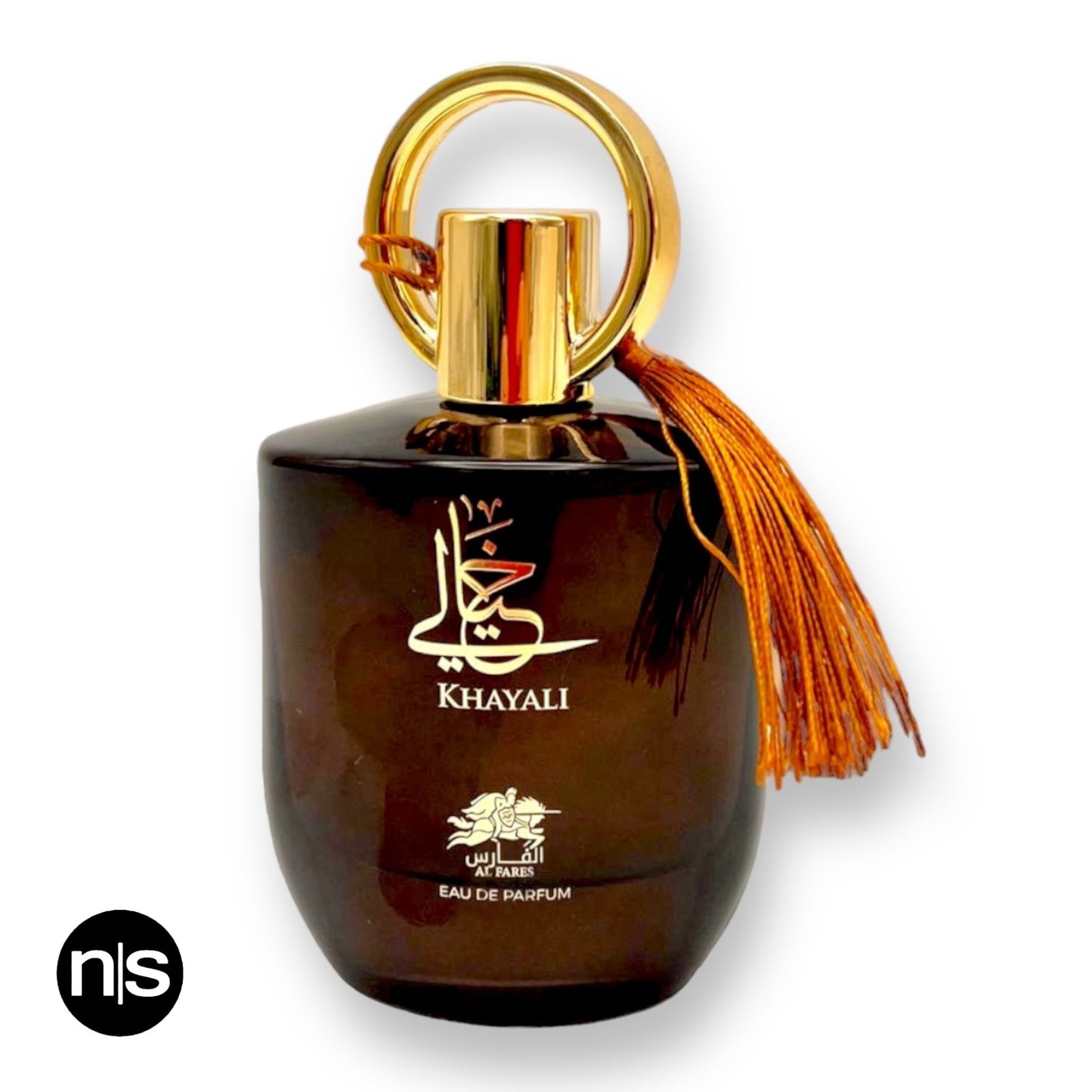 Collapsible content
Guaranteed authenticity

All perfumes sold on Nemeshop.com are 100% authentic guaranteed. Nemeshop.com purchases its inventory through authorized distributors or respected industry wholesalers/distributors. Each perfume and cologne product within our collection of 8000 SKUs in 180 brands is authentic and comes directly from the manufacturer or accredited suppliers we know and trust.
Security commitment

At http://Nemeshop.com , our goal is to make your shopping experience safe, convenient and worry-free. We have privacy and security programs that work to ensure every transaction made on http://Nemeshop.com .

All your personal information is protected by our secure server software (SSL) that fully encrypts and protects all your personal data (name, address, credit card number) so that no one can read it over the Internet.