Regular price
Sale price
$55.00
Unit price
per
Coming Soon
Bade'e Al Oud Amethyst: A Unisex Olfactory Jewel.
Step into the opulent world of Bade'e Al Oud Amethyst, an exquisite unisex fragrance that harmoniously blends spicy allure with the richness of floral and woody notes. This fragrance, like a rare gem, unfolds in layers of sophistication, capturing the essence of pink pepper, precious roses, and the revered agarwood.

At the very beginning, the top notes dazzle with the sharp brilliance of pink pepper and the citrusy sparkle of bergamot. This initial burst is like the unveiling of a precious gem, setting the stage for a fragrant journey that promises both intensity and elegance.

As Bade'e Al Oud Amethyst evolves, the heart notes reveal a lush bouquet of Turkish and Bulgarian roses, alongside the intoxicating embrace of jasmine. These floral notes intertwine, creating a symphony of richness and refinement. It's a midsection that exudes the timeless charm of a blooming rose garden.

In the base notes, the fragrance settles into a warm and woody finale. Agarwood, the revered oud, takes center stage, infusing the composition with its distinctive depth. Amber adds a golden warmth, while vanilla imparts a sweet and velvety richness. Together, they create a lasting impression that lingers on the skin, like the memory of a rare and precious jewel.

Bade'e Al Oud Amethyst is more than just a fragrance; it's an olfactory masterpiece, a jewel in the realm of perfumery. With its carefully curated notes, it captures the essence of intensity, elegance, and the mystique of oud. Let Bade'e Al Oud Amethyst be your olfactory adornment, a fragrance that resonates with the rare and precious beauty that is uniquely yours.


FRAGRANCE NOTES:
TOP NOTES: Pink Pepper, Bergamot

HEART NOTES: Turkish Rose, Bulgarian Rose, Jasmine

BASE NOTES: Agarwood (Oud), Amber, Vanilla

Share
View full details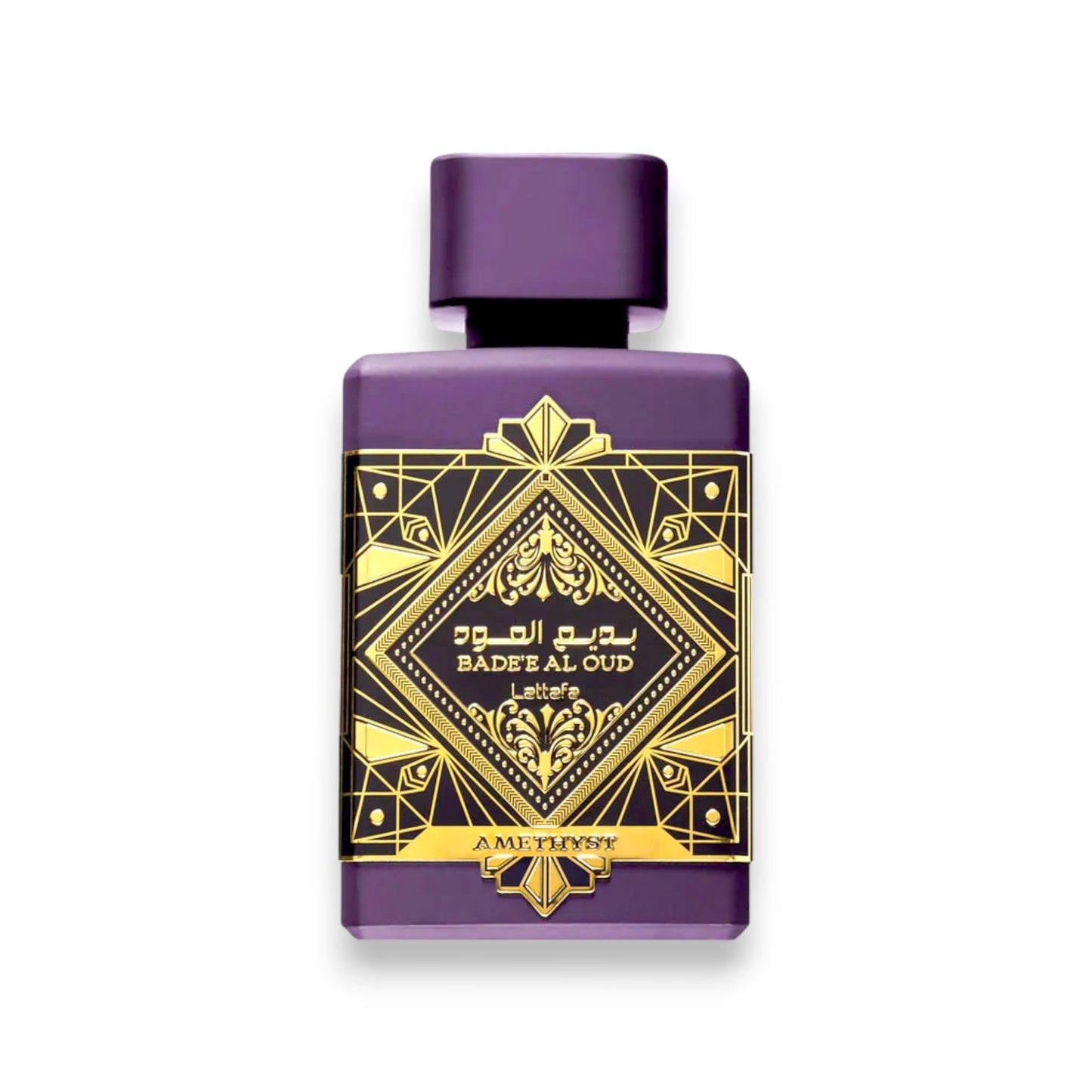 Collapsible content
Guaranteed authenticity

All perfumes sold on Nemeshop.com are 100% authentic guaranteed. Nemeshop.com purchases its inventory through authorized distributors or respected industry wholesalers/distributors. Each perfume and cologne product within our collection of 8000 SKUs in 180 brands is authentic and comes directly from the manufacturer or accredited suppliers we know and trust.
Security commitment

At http://Nemeshop.com , our goal is to make your shopping experience safe, convenient and worry-free. We have privacy and security programs that work to ensure every transaction made on http://Nemeshop.com .

All your personal information is protected by our secure server software (SSL) that fully encrypts and protects all your personal data (name, address, credit card number) so that no one can read it over the Internet.